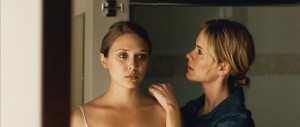 There have been couple of new films that have stood out this year. The studios that have bought them are now looking out for ways to market these projects. One of the late hits of the festival was Martha Marcy May Marlene. The reviews were really good for the film and have been one of the biggest films out from the festival. It was preceded by the popular love story Like Crazy.
Both these films did get the recognition it deserved and also had some really good buys. The story of a bruised girl who early in the film escapes a commune cum cult who then takes shelter with her married yuppie sister, from whom she had been estranged has been getting some really good buzz. Durkin's script teases out details of Martha's horrific past very slowly, while simultaneously showing her attempt to escape that past, at least psychologically, in her new quarters.
The title of the film is also not something that will be seen in the coming weeks. The film is almost not saleable. Durkin the director said that one of his guiding principles in shaping the movie was that he didn't want to give too much information.
The fate of Martha Marcy May Marlene will be something to watch out for in the coming couple of months. Tell us what you think about this article and give us your suggestions for the title.