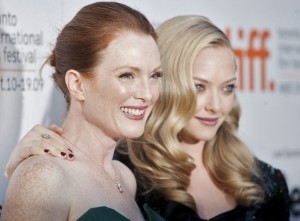 Chloe is being called a return of form for Atom Egoyan. But Atom Egoyan has not lost any of his form. It is just the idea of what critics perceive and expect from him. The new film stars Julianne Moore, Liam Neeson and Amanda Seyfried. It was first showcased in the recent concluded Toronto Film Festival.
The film plots the high class escapades of a woman who begins to suspect her husband of infidelity. So she involves another woman to test his fidelity but it leads to dangerous consequences.
The film was fully financed by Paris based Studio Canal which will distribute the film in France and the UK and Germany. After the Toronto film festival where it played to mixed reactions it was bought by Studio Canal. Many buyers were skeptical after the screening of the film.
The film will be now released in the first half of 2010.