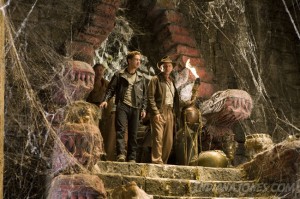 The last film was quite dull compared to the earlier sequels to Indiana Jones. They will be making another sequel to the film just so that the studio can make some more profits out of Harrison Ford. Indiana brought on the horrible science fiction, which was not great compared to the earlier works of Steven Spielberg like Minority Report and Alien.
The suspension of disbelief was something amiss in the last one. Shia Labeouf was the added star to the franchise and he will be reprising his role once again in the franchise. This is what Shia had to say about the new film script.
"They're script writing right now. I got called into Steven's office and he pitched a little bit to me and it sounds crazy, it sounds really cool."
The film will take the cast to the Bermuda Triangle and was later falsified by the script writer himself. But one thing is certain the film is expected to come out in two years time.
Steven Spielberg working overtime on his finishing touches of the Tin Tin film. Indiana Jones will not be too far away.