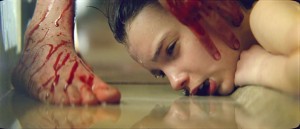 Here is another horrific trailer for Let Me In. This one is surely for the mature audience. But it does reveal almost the entire movie for those who have seen the original version. It was shown in Comic Con and people were left breathless. There will be quite a lot of people who will get heart attacks in the US.
The film stars Kodi Smit McPhee and Chloe Moretz. It centers on Owen an outcast boy who gets bullied most of the time at school. He meets a new neighbor in Chloe Moretz with a secret agenda. It is based on the book by John Ajvide Lindqvist. It was a bestselling novel which got adapted to a Swedish film called Let the Right One in. Now the Americans want their teeth on this beautiful piece of literature.
The new trailer is still powerful, but by showing the violence nothing will come out. It is in the smaller moments that the Swedish film really took force.
Let Me In will hit theaters on October 1.