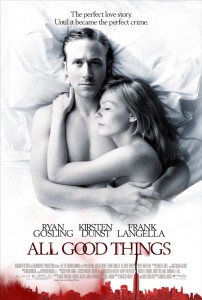 click the image to get the larger one.
The film has been in production for some time now. Ryan Gosling stars alongside Kirsten Dunst and powerhouse Frank Langella. The film is based on the real 1982 mystery revolving around the disappearance of the wife of real estate heir Frank Dunst.
Gosling will play Frank Durst. All Good Things will be hitting theaters on December 17 th. The film seems to be a difficult sell for the distributors. It will be something to check out because of the performance of Ryan Gosling.