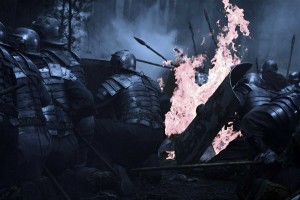 Michael has been having good year all round. He was seen in Fish tank and Inglourious Basterds this year. His next film will be directed by Neil Marshall called Centurion. It is more like a Roman chase film says Michael Fassbinder.
The film is expected sometime next year. The story is about a group of Roman soldiers trying to get back across the border. It sort of surrounds the legend of the Ninth Legion.
The Roman soldiers were ordered to suppress some tribal community that was causing havoc in the outposts. They were trying to suppress the race. Unfortunately they were not able to suppress this race.
So the Romans send the Ninth Legion in, which was the best legion they had, and they disappeared. You can check out the images from the film after the jump.