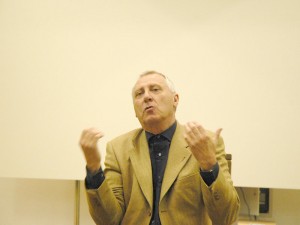 This might come as a shock for many loyal fans of the director. He is among the most famous in the art world of cinema. He will be working on a comedy called 4 Storms and 2 Babies. He will be shooting the film in Amsterdam later this year.
The film is once again going to be an unconventional love story about two men and a woman who becomes pregnant after a night of three way sex with them.
This is also going to be once again a return of form for the director with a story like this. The director has shied away from narrative in his last couple of films. Greenway's more famous features include The Draughtsman's contract and Drowning by numbers. They were the twisted romantic comedies by the director. There is going to be another film that he will be working on in the next couple of months as well called Glotzius and the Pelican Company. Here is a synopsis of the film.
GOLTZIUS AND THE PELICAN COMPANY is about Hendrik Goltzius, a late 16th century Dutch printer and engraver of erotic prints. He seduces the Margrave of Alsace into paying for a printing press to make and publish illustrated books. Goltzius promises him an extraordinary book of pictures of the Old Testament Biblical stories. Erotic tales of Lot and his daughters, David and Bathsheba, Samson and Delilah and John the Baptist and Salome. To tempt the Margrave further, Goltzius and his printing company will offer to perform dramatisations of these erotic stories for his court.
The list of films will be something to keep us preoccupied for the coming months. We will be closing following his developments and tell us what you think about it.