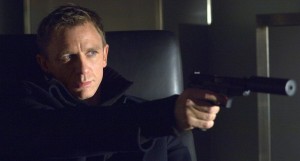 Daniel Craig was in talks to replace Robert Downey Jr in Jon Favreau's upcoming adaptation of Cowboy and Aliens.
Downey considered the film for sometime finally he took on the sequel of Sherlock Holmes which has been fast tracked for a summer shoot. The other film called Cowboys and Aliens will also be shooting around the same time so it will conflict.
Craig is officially on board for this film. The film is an adaptation of Fred Van Lente's graphic novel and revolves around cowboys and Native Americans who put aside their Old West differences to battle invading aliens. But it might turn into something special with the right cast.
Now with Daniel Craig we can expect some more really good talent for the film. The film has been written by Alex Kurtzman, Robert Orci and Damon Lindelof. These are the people behind the Star Trek films and Lost TV series. So watch out for some interesting suspense follow the film.