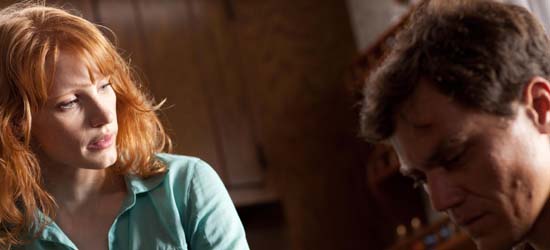 The first trailer of Make Shelter is finally out. He has been stealing the show in many films and TV shows recently. He can be seen as FBI agent Nelson Van Alden in Boardwalk Empire. Shannon has also landed a role as the villainous Zod in Zach Snyder's Superman reboot. It is still not titled yet.
The actor became famous after his powerful role as John in Revolutionary road. He has also been gaining a lot of fame in the theater world as well. Take Shelter seems to be a powerful film that pits him against the beautiful star from tree of Life.
The film is expected to come out in theaters on October 7 th, is about a man who has visions of powerful storms and a family history of mental illness. As he prepares for the coming storm, which may not actually be coming, he alienates his family and friends.
Shannon was lauded at the recent screening at the Cannes Film Festival. This will really put michael Shannon on the map. He is a serious rising star for Hollywood. Tell us what you think of these developments.