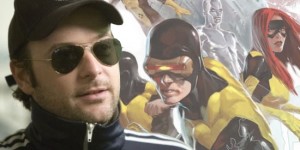 Everyone is excited that Mathew Vaughn is doing X Men: First Class. Lots of stars are also quite excited and they came in full force for this one. Loads of unknowns, upcoming and popular stars have joined the beginning of the series.
The director has some thought on the future of the super hero movie. Mathew Vaughn has been quite excited that he has got this chance to make a superhero movie and it might also be his last.
I think we've kind of crossed the Rubicon with superhero films. It's been mined to death and in some cases the quality control is not what it's supposed to be. People are just going to get bored of it. I think [the opportunity to do one], it's only going to be there two or three more times. Then, the genre is going to be dead for a while because the audience has just been pummeled too much. It is a crowded room. It's too crowded.
He also shares some of his thoughts on why he let go of a chance of making Thor and X Men The Last Stand. In my view it was a good choice that he did not want to be a part of that.
What happened with X-Men was I didn't have the time to make the movie that I wanted to make. I had a vision for how it should be, and I wanted to make sure I was making a film as good as X-Men 2, and I knew there was no way it could be. I just suddenly knew it wasn't the right thing for me to do. It was a tough decision because it was a hell of an opportunity. But I was trying to make a career as a director, and I didn't want to be the guy accused of making a bad X-Men movie.
So it was kind of great that he did not do them. The thing is even now it would be a good time for the franchise to go through a total change. This change is needed after the last two films were quite bad. So a change is highly appreciated.
He also talks about what he could have done for the previous two films.
As it happens, I could have made something a hundred times better than the film that was eventually made. It sounds arrogant, but I could have done something with far more emotion and heart.
So with that belief we hope Mathew Vaughn should get our hearts racing with the next installment.
Source: LA Times