Great times, times of change, times with no consequence, restless times and waking times. These are all things Scorsese's characters have witnessed through the span of his career. He has been crying foul at Precious not being in 3D. He is asking filmmakers to get personal with their stories for decades. Something he generates through his self. He is truly a good filmmaker who might just lose out on time.
Here is a sleek peek into the TV series Boardwalk Empire
He has now focused his energies in creating a kid film. It is probably the first time he has left the gore and took on something light yet dark. Ben Kingsley will be returning once again for the film after his interesting take in Shutter Island. Martin seems to like what happened to Shutter Island. It was out of the Oscars race for good reason. It ended up being appreciated by the audiences but not by the critics. There is certainly a good emptiness in the part of the filmmaker because of the lack of acclaim. When a film is misunderstood for what it plays out it is surely going to be good?
Apparitions seem to be filling his walls. It kind of mirrors the thought process he has been going through in the last couple of years. But many of his cinematic techniques seem to be tried and tested. There is no resolution to many of the glazed red filtered shots in his movies or the lingering establishing shots. Drama turning out to be the bane of the films in recent times is more suggestive in the case of Shutter Island.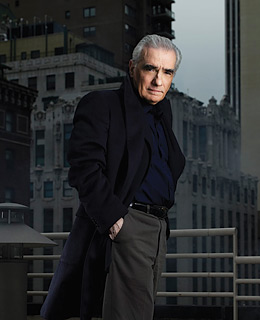 Martin Scorsese has now set his eyes on The Invention of Hugo Cabret. After the production of the Sinatra biopic was on hold it is now time for this to be created soon. Martin Scorsese is also gearing up for the release of his TV shows. It feels like Martin wants to push for all the different forms of the media before it is too late. The Boardwalk Empire with its plush sets will be an eye candy to watch but an emotionally discomforting TV series.
Let us get back to Hugo Cabret. It is based on a popular children's book of the same name. The interest in the film has been renewed because of the casting news. The films storyline will be about Cabret who is dedicated to his late father's ambition to solve the mystery of a broken robot while living inside a train station. Cabaret will be played by Sacha Baron Cohen; a station inspector while Kingsley will play the role of George Melies. Now George is a real life filmmaker who accidently got some of the most interesting tools for cinematic narratives. For instance multiple exposures, time lapse photography, dissolves and hand painted color in his films. He was nicknamed a cinematic magician. But George knew that he was an accidental artist. This will give Martin Scorsese an excuse to give a fitting tribute to the artist through the story.
But all this is so that he can facilitate one of his passion projects called The Silence. It has already fall through the seats of the studio bosses. So Martin Scorsese is trying to make their cushioning a little more tightly so they will allow him to make The Silence. A lot is riding on this film for him. Now the question of who will be playing Hugo Cabret?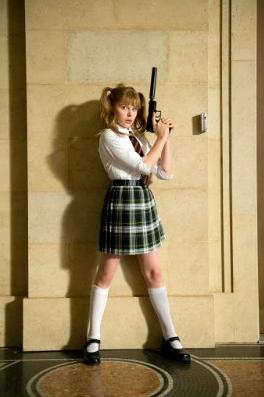 As expected loads of kids have been checked out to fit this role of an eccentric bookish girl and finally they have arrived at someone. Many of the frequent readers of this blog will also relate to this. Hugo will be played Asa Butterfield who had a serious turn in The Boy in the Striped Pants. It will depend on him to get the act straight and pull the story forward. The dull and boring girl will be played by the Kick Ass Hit Girl Chloe Moretz. She has been landing on several powerful roles in the last couple of months. This was after not so convincing role in 500 days of Summer.
The storyline suggest there will be a lot of stop motion techniques which very far away from where Scorsese is coming from. Here is a brief summary of the on goings.
Twelve year old orphan Hugo lives in a station and tends to clocks. His father recently passed away, a clockmaker, worked in a museum where he chanced upon an automaton: a human like figure seated at a desk, pen in hand, and ready to deliver a message. After his father showed Hugo the automan; he becomes obsessed with getting the automaton to function as his father had been, and the man gave his son one of the notebooks he used to record the automaton's inner workings. This will be certainly challenged to bring to the screen. But Scorsese will surely make the most of it.
Martin Scorsese has been in the business of showbiz for quite some time. His films though are a detour from the whole business. He will be playing it outside the field even for this story taking into account all the internal struggles of the characters.