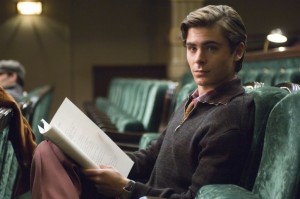 This is surely sign of the beginning of good times. Richard Linklater's film Me and Orson Wells has finally seen a release a date on November 25 th. The film is surely not one of his best but it certainly will make the fans of this formidable director happy.
The trade magazines have just informed that Freestyle releasing will handle the release of the film. It is film that centers on teenage actor cast as Julius Ceasar as reimagined by Orson Wells at his theatre in 1937. The film is based on the novel by Robert Kaplow.
The film was finding it hard to sell because of the premise. The direction that Richard had taken for this film was not suited for the festival goers. But with addition of Zac Efron in the film, it is surely going to a small hit. This is assured with millions of girls jumping on to see this film in its first week. But still even with the star's potential it didn't get packed. The main reason was the economic climate playing a spoil sport to things.
So after year of release in the festivals this Zac Efron and Claire Danes will light up a screen near you.