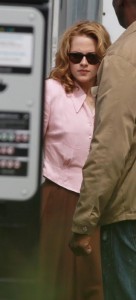 Click the image to get the larger one.
Here is the first still from my favorite book adaptation of all time On The Road. They have finally got an image from the movie courtesy of Kristen Stewart. But this is just an image of how Kristen Stewart will look in the film. But really I can't wait to see Viggo Mortensen and Amy Adams in images.
On the Road is a film by Walter Salles and it is adapted from the book by Jack Kerouac of the same name. The shooting for the film just began couple of days ago. And will continue through the summer and untill the end of the year. The shooting will span New Orleans, Mexico, Canada and San Francisco.
Here is a small synopsis via Awardsdaily.
After the death of his father, Sal Paradise, an aspiring New York writer, meets Dean Moriarty, a young and dangerously seductive ex-con. They hit it off immediately. Determined not to get trapped in a narrow life, the two friends burn their bridges and hit the road: thirsting for freedom, they discover the world, others and themselves.
The film also stars Sam Riley, Kirsten Dunst and the rest people we talked about above. Check out the still and tell us what you think of this adaptation.