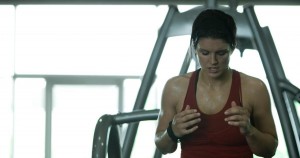 Steven Sodrebergh is hard at work on his next film starring MMA fighter Gina Carano and a great supporting cast. The film has been titled once again as Haywire. The film is expected to hit theaters on January 2011 by Lionsgate.
There have been several screenings of the film and it has got a good vibe from distributors. The film will be hitting in January. Dennis Quaid was part of the cast. But he dropped out in the last minute. Now the cast is filled with some great faces.
Ewan McGregor, Michael Douglas, Michael Fassbender, Channing Tatum, Antonio Banderas, Michael Angarano, Mathieu Kassovitz and Bill Paxton are all part of this beautiful cast. This is going to be a major showdown. It is an action based spy thriller that centers on a performance by an actress with no real prior feature experience. But she can really pack a punch.
Carano plays a black ops soldier who is betrayed during a mission, but survives to seek revenge. The film is written by the man behind who wrote The Limey. So the huge cast will be mix of people who are friendly with her or antagonists.
But what will matter in this film it will be the action that will play the most important role. Now with Carano in the center of the film it is surely going to be an action extravaganza.