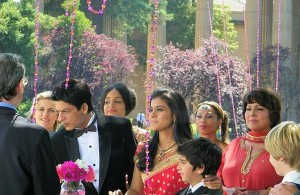 Fox has just announced the release date for My Name is Khan. It will be coming out during the Valentine's day weekend. In a way the release during that time will be perfect for the distributor and the filmmaker.
The film is directed by Karan Johar. It will star the hit pair of Shah Rukh Khan and Kajol. The two of them were last seen together in Kuch Kuch Hota Hain. But they have been in several cameos of each others movies. They are known for their powerful onscreen chemistry. Now this will be the fifth time that the two of them been paired together.
The film is a very universal subject. Shah Rukh Khan will play a man who is looking for his love in a harsh city. Along the way he meets people who will change because of his persona. This is perfectly made for Shah Rukh and will launch him as an international star. So the story is about him winning back the love of his life.
Fox Star Studios will release the film in India, Fox Searchlight in the US and FOX in the other 38 territories like UK, Australia, New Zealand and the Middle East in early Spring.
This is surely a special film for the whole of India. I'm just worried about the treatment of the film.