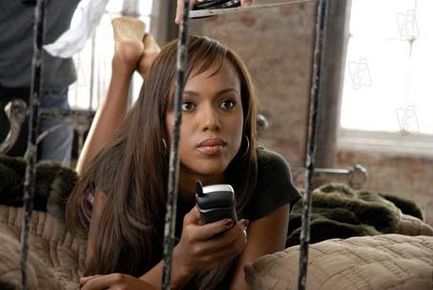 The actress Kerry Washington has not really made her mark in Hollywood. She is known for her subdued supporting parts. But her performance I think I love my Wife raised quite a number of eyeballs.
She was also seen in movies like Lakeview Terrace, Ray and The Last King of Scotland. But far from the camera she has almost total political theater background. There have been so many of them like some high school teen sex skits and several other political dramas. Now she has her handful with a role in David Mamet's play titled Race. This is surely a startling performance from the young starlet.
Kerry used to write college papers on many of David Mamet's work. She says "I didn't really see how it would be possible" to be in one. "I guess a very non-traditionally castGlengarry, you know? I mean he didn't write this with me in mind, but I feel really excited to be alive at this point."
In Race, Washington plays a young black legal assistant, the third angle in a power struggle between some harsh bosses David Alan Grier and James Spader. They all trying to reason whether they should take up a case where a white man is accused of assaulting a black woman. "I would say there are some huge similarities" with previous Mamet, Washington says, "and some huge differences. There are some Mametisms that appear for all of the characters in the play. But there's something very different about her."
Washington is the reluctant actor in this production. But her performance is something to be felt. The characterization is something that can never be forgotten. After all it is a Mamet play.