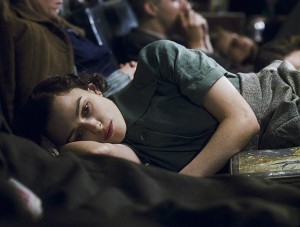 She will be joining her favorite director Joe Wright once again for an adaptation of Anna Karenina. It will be written by Tom Stoppard. There have been several versions of the famed Leo Tolstoy book. One of the strongest adaptations was the Greta Garbo one.
This new version will star Keira Knightley and will have a really good team working for it. Working Title has been developing this version for the big screen. Joe Wright will make a decision to take on which project by the end of this year.
Knightley is also rumored to join the cast of The Dark Knight Rises. This might turn into a party crasher. So we will have to seen in the next couple of months what the outcome of this is. The film will be retelling of the tragic Moscow love story of the titular married Russian aristocrat, who falls for an army officer. There is a lot of surrounding characters that make for some interesting reading. Joe Wright's next film is in the final production stages with Saorise Ronan, Eric Bana and Cate Blanchett all part of the cast. It is an assassin film called Hanna. It will be hitting theaters on April 8 th 2011.
Source: The Playlist