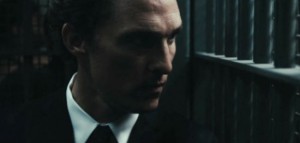 The film looks like something but it probably is nothing at all. The cast has really got me thinking of what drew them to this subject. It was probably the script of the film. Mathew McConaughey and Ryan Phillippe headline the cast of this film.
The film is a murder mystery that involves domestic disturbance. The rest of powerful cast include William H. Macy, Marisa Tomei, John Leguizamo, Michael Pena and Josh Lucas. Tommy Lee Jones was initially said to have wanted to direct this one, but finally opted out. The job finally went to Brad Furman who seems to have lost the thought that connected the film.
It is based on a Michael Connelly novel. The film looks like Primal Fear, but with a silly name called The Lincoln Lawyer and Marisa Tomei. The film will be hitting theaters early next year on March 18 th.