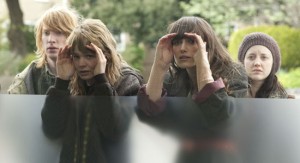 Carey Mulligan and Keira Knightley will be making a lot of press meets for the new film Never Let Me Go. The film is an adaptation of Kazuo Ishiguro's acclaimed novel.
The film is directed by Mark Romanek and it also stars Sally Hawkins, Charlotte Rampling, Andrew Garfield, Andrea Riseborough and Nathalie Parsons. Here is small synopsis.
Never Let Me Go centers on three children, Ruth (Knightley), Kathy (Mulligan) and Tommy (Garfield), who spend their childhood at a seemingly idyllic English boarding school. As they grow into young adults, they find that they have to come to terms with the strength of the love they feel for each other, while preparing themselves for the haunting reality that awaits them.
The film has been tracking well after reviews from British press have been quite favorable. The film will be seen in major American festivals in the next couple of weeks.
Source: MTV