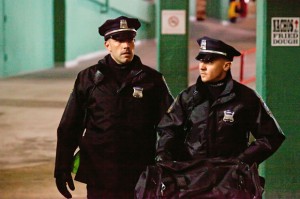 It is very unusual for a Hollywood blockbuster style film to have quite a lot of low angle shots. It is certainly a sign of progression. Ben Affleck really seems to be more seasoned after his debut film The Town. He really takes this one out of the park, but still around Boston.
Ben Affleck also stars in the film as a career criminal that has to deal with feelings for a bank manager Rebecca Hall connection to one of his earlier heists. He has also to deal with an FBI agent looking to bring him and his crew down.
The Town also boasts of an exceptional supporting cast of Jon Hamm, Chris Cooper, Blake Lively, Pete Postlethwaite and rising star Jeremy Renner.
The film is expected to come out on September 17 th 2010.