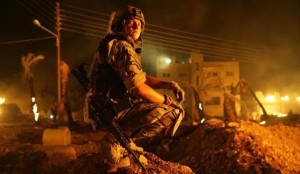 Lot of good things was said during the Oscars about Jeremy's performance by Colin Farrell. His respect for the artist gave a whole new meaning to the word dedication. Jeremy Renner was not a man with a mission couple of years ago. He was not even dreaming about trying to disarm bombs. But his studied work ethic and his willingness to give to a character made it possible for him to make it this far.
His character has brought in a lot of people from the right to appose Jeremy's addiction portrayed on the screened. Many people think that the war turf films are over. But it is not over till the wild man Paul Greengrass says it is over. He will be releasing his next collaboration with Matt Damon called Greenzone this week .This will be a sure fire test for the two of them.
Back to Jeremy there is a lot of star driven vehicles in the pipeline but Jeremy can bring in the new age kind of star with his detached presence. Now he will bring a new kind of resilience to Paul Thomas Anderson's body of work. Paul is a man who took the whole meaning of the American Film and made it something of an enigma. It will take couple of years to see the full effect of what he has given to cinema.
Paul goes about his way and takes on Jeremy in his next project called The Master. What is this going to be about? Is it a recollection of the moments that brought out the Church of Scientology? Paul Dano will return in this film as young man naïve and misguided to the various truths imparted by the Master played by Philip Seymour Hoffman. Just to see Philip Seymour Hoffman lost on the sets of his films is such a treat. He also has his hands full with his directorial venture called Jack goes Boating. Philip is really careful when taking up his characters and giving a new meaning to the word fortitude.
Jeremy Renner just revealed to the Times that he had taken an interest to this secret project that has everyone talking. But the moment the contracts are signed there is going to be a knot on these actors and expectation that will surely make them suffocate.
The rumors on this project have been escalating to dizzying heights. Everyone wants to know where this will go till? What will it be attached to in a biopic format? But the inclusion of the actors has not really increased the curiosity value. Even if the film begins to shoot the end result will only be seen next year. People have been looking into script drafts which fail to show the look of the film and assumptions are being made. Everything is eventual over here. The more we are getting into the meatier details it seems to be political. It will lead to a controversy upon its release so many crew members don't want to be seen around this project.
The characterization behind the film also seems to border on the minimalist. The drama will be more objectified with just couple of his children and Freddie. So will this lead to an exit for Paul Dano. I really can't put my finger on it whether it is a good thing or not. Dano seem to be lesser in front of the might of Daniel Day Lewis in their last outing in There Will Be blood. He might as well fall short once again.
But Renner is still on the fence on whether to take up this role or the obnoxious part in the Peter Berg film called Battleship. They both will be summer shoots. This is quite a lot for Renner to consider in the time he has with his family. There is lot of pieces to take into account for the characters. So it might well take its time and pass on to the next year. It will still be a passion project worth waiting for.