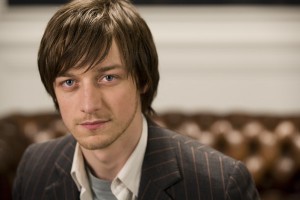 Stars James McAvoy and Robin Wright Penn are all ready with some interesting releasing in the next couple of months. They have already on for a period drama on true events following the Assassination of President Lincoln. The film is called The Conspirator and it is a good thing for James McAvoy known for his role in The Atonement and the soon to be released The Last Station.
The film will begin shooting only in October. Robert Redford is said to produce the film with the executives of American Film Co. The film will also be directed by him and hopefully he can better on his previous dud Lions for Lambs and give us something close to Ordinary People.
The film is scripted by James Solomon. It tells the story of Mary Surratt(Robin Wright Penn) who is charged in the murder of the president. Meanwhile McAvoy will play Frederick Aiken, an idealistic young war hero who tries to defend this woman and steadily becomes to realize she is innocent.
The premise is perfect for James who can't be forgotten for his work on Atonement even though he did Wanted. He will return in the repelling sequel to the latter which will possibly star Angelina Jolie once again. Robin Wright Penn on the other hand will have some glory this year with her role in the Rebecca Miller directed The Private Lives of Pippa Lee.