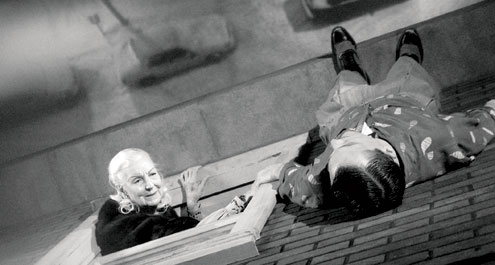 Isabelle Rossellini will be back once again on Guy Maddin's next imaginative piece called Keyhole. He has been focusing on another short film, which he finally made and exhibited called the Night Mayor. He has now focused on Keyhole once again.
Isabelle Rossellini is back for a third film with Guy Maddin after the success of films like Brand upon the Brain and The Saddest Music in The World. The film will co star Jason Patric.
Kevin McDonald will also be playing a part in the film as a gangster who becomes a ghost.
The film is being called a crime film about a family of gangsters holed up in a big house, but there's a fissure along gender lines and everyone trembles in fear and loathing within a warrior. I want to adapt Kleist's Penthesilea of the 30s, an incredibly intense play about the literal battle of the sexes, between the armies of the ancient Greeks and the Amazons. The beautiful Penthesilea and Achilles hate each other so much they transmute the hatred into lust, naturally.

They are constantly tearing away at each other's flesh but don't know why, or to what end, whether mortal or sexual. The lust is almost entomological.
Here is a synopsis via Playlist.
A gangster and deadbeat father, Ulysses Pick (Jason Patric), returns home after a long absence. He is toting two teenagers: a drowned girl, Denny, who has mysteriously returned to life; and a bound-and-gagged hostage, who is actually his own teenage son, Manners. Confused Ulysses doesn't recognize his own son, but he feels with increasing conviction he must make an indoor odyssey from the back door of his home all the way up, one room at a time, to the marriage bedroom where his wife Hyacinth (Isabella Rossellini) awaits. The movie is loosely based on Homer's "Odyssey," but with all the action transplanted indoors — a domestic Odyssey across carpets and floors, into and out of rooms, instead of across the sea. Here in the old family home the film can poetically study the emotionally complex importance of the house, and all the memories that haunt every nook and cranny of our childhood domiciles.
There is no official word on when this movie will release, which is a great sign. I would like Guy Maddin to take all the time in the world.