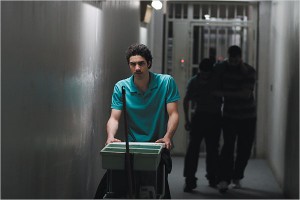 French writer and director Jacques Audiard has peaked in his career with the release of his last film a Prophet. This is after the release of his other powerful film called The Beat that my Heart Skipped. He has no time to waste and he is working overtime in order to create some projects soon.
First we have the latest one from Louis Mellis. He co wrote with Jonathan Glazer's modern classic called Sexy Beast. For a long time we haven't heard anything from Mellis and his writing partner David Scinto. Mellis is now working with Jacques Audiard and has signed a new contract with him.
The Princess Gangster will tell the story of John Bindon, a Londoner who fell into crime as a teenager, serving time in Borstal for possessing ammunition. On his release he was spotted by Ken Loach and cast in Poor Cow starting a career of tough guy roles in films such as Performance, Quadrophenia and Get Carter. Bindon was linked with actresses like Christine Keeler and Angela Barnett. He was also known to date Princess Margaret the younger sister of the Queen.
This guy has almost done everything. He worked as security for Bowie and Led Zeppelin, but never lost touch with his criminal roots, and was tried for murder after a fight with gangster John Darke. He was later acquitted, partly due to the appearance of Bob Hoskins as a character witness. It is certainly a great life to capture on film. But there is a chance that it might tend towards the royal romance.
The next big thing which I m really excited about is the Prophet sequel. Audiard revealed "we were asking ourselves this question, rather lightly, of what would be El Djebena's future is a Prophet 2. And with the profile he has, I imagine things, and his relationship with the whole kind of gangster society is very ambiguous. And I totally can imagine him as a local elected member of office. First of all!"