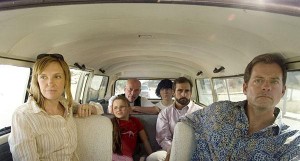 Reports just in that Greg Kinnear, Alan Arkin and billy Crudup have signed on to star in the crime drama titled The Convincer. The film will be written by Jill and Karen Sprecher and directed by Jill Sprecher.
The film is about a desperate insurance salesman who gets his hands on a rare violin. I wonder if its frustrating for writers to see a logline like this appear and think. It is really much better than that. We didn't think of an attitude, a profession and an item and run from there!"
The Sprecher's previous work includes Clockwatchers and Thirteen Conversations about one thing. Kinnear will be next seen in the Green zone while Alan Arkin will be seen in Due Date. You can catch Billy Crudup alongside Julia Roberts, Javier Bardem and James Franco in Eat Pray Love.