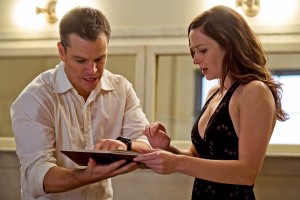 Click the images to Enlarge to High resolution.
We have been closely following this adaptation of Philip K. Dick's book called The Adjustment Team. It is a short story which is turned into a film by director George Nolfi and it is called The Adjustment Bureau.
The film has really nice cast comprising of Matt Damon, Emily Blunt, Anthony Mackie, John Slattery, Shohreh Aghdashloo, Michael Kelly and Terence Stamp.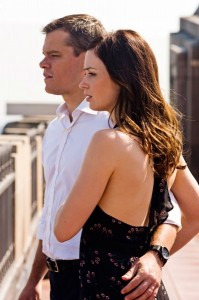 Who controls our destiny? Matt Damon stars in the thriller The Adjustment Bureau as a man who glimpses the future. Fate has planned something for him and he wants something else. Now the only way for that to happen he has to pursue the only woman he loved.
This simple synopsis will give away the love story element. But that was expected. One the brink of victory at winning a seat at the US senate, David played by Matt Damon meets ballet dancer Elise Sellas played by the talented Emily Blunt. But just as things start getting better there are forces that begin to oppose this relationship.
This is when David realizes that he is up against the agents of Fate itself the ment of The Adjustment Bureau will do anything in their power to make sure this union never happens. In the face of overwhelming odds, he must either let go of this union or walk through his predestined path.
The Adjustment Bureau is written for the screen and directed by George Nolfi. The film is expected to release on July 30 2010.