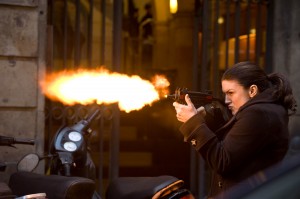 Click the image above to get the high resolution image.
Steven Soderbergh is finally coming out with his first look for Haywire. He is also simultaneously working on his next film Contagion with huge star cast. Haywire stars MMA fighter Gina Carano as female covert ops specialist. She will be playing the Jason bourne style agent in this movie.
The film will be hitting theaters on January 20 th 2012. Haywire is directed by Steven Soderbergh and will be the follow up to the Informant and Girlfriend experience. The script was written by Lem Dobbs.
Haywire is an electrifying tale of espionage and betrayal, a female covert ops specialist, who works in the deadly world of international operatives, strikes back after discovering she has been double crossed by someone close to her in the agency.
The film also stars Channing Tatum, Ewan Mcgregor, Michael Douglas, Michael Fassbender, Antonio Banderas and Bill Paxton. Tell us what you think of the new look from the film and the amazing cast.