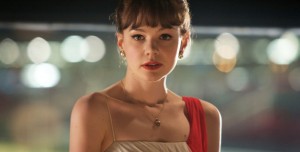 Kazuo Ishiguro is known for his film adaptations of his own books like the Remains of The Day. But recently there has been news on the Never Let Me Go adaptation. It is one of those heavenly written science fiction books. His novel is mostly written in first person narrative style and almost always deals with human failings.
Never Let Me Go tells the story of three friends Kathy, Ruth and Tommy and their lives spend at Halsham. A dystopian boarding school life that is totally sheltered and isolated. The protagonists Kathy, Ruth and Tommy are played by Keira Knightley, Andrew Garfield and Carey Mulligan (the current star of An Education) respectively.
Carey Mulligan spoke of her experiences exclusively to La Times blog. "When I read the book three years ago, I said I have to play Kathy," the gamine Mulligan said during her recent publicity tour for "An Education."
"I was so moved by it," the actress said. "That story between her and Tommy is so beautiful. The end where in the book he says — it's not in the film — 'Sometimes I think of us like two people standing in a river and there's water rushing around us and we're holding on to each other tight and trying not to get swept away.' "
"When I go Kathy, I felt a huge responsibility playing a book that people love so much, the kind of book that you read and then you push it on other people." Carey Said
Carey also talked about the problems she faced while shooting the film. She was not able to drive so they had to shoot on a private road so that there won't be any issues. But she failed the test and sweetly said "I'm really bad at it," she confessed. "No hand and eye coordination."
But I really think the cast for this film is really set except for Keira. But it is Kathy who gets the best part in the book. I think you should give the book a reading. I wouldn't even mind after the film as well. It is truly remarkable.