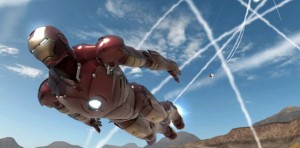 Here is another 7 minute behind the scenes look of the Iron Man 2. The 7 minute video was featured in a French movie channel Canal Plus. Fans are really going to go crazy with this one.
The video has most of it in English. So anyone can really relish this one. I am sure people are going to be in for a surprise. We had already posted another video of the Iron Man Set Visit some time back.
There are interviews with the crew including the man of the moment Robert Downey Jr. We can see images of some of the updates of Tony Stark's workshop. Some of the shots from the previous video like the huge green screen on the race track. Just check this one out and sip on some ice tea. Don't forget to tell us what you think.