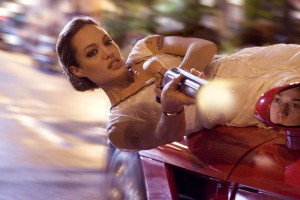 This is just kick ass news. Charlize Theron has opted out of The Tourist but don't neeed to fret because Angelina Jolie has come to the rescue. So with one hot bombshell out we get the best thing there is in the market. Angelina Jolie is by far the best action superstar we have in the industry. So everyone in the studio would be loosing their minds with this news.
She has already proved her action prowess with movies like Wanted, Tomb Raider and Mr and Mrs Smith. She is easily the best thing with a gun. She has just finished work on her next action film called Salt which was a Tom Cruise vehicle that she made her own. The Tourist is a remake of the French Thriller Anthony Zimmer; the story follows "an American tourist who, on behalf of Interpol, goes undercover to entrap a former lover who's a suspected global criminal." So she is used to these assassin type roles but it will surely affect her variations as an actress.
The other star for the film will be the rising Sam Worthington. So it will be the upcoming Prince of action with the Queen so there will be a lot of teaching from both ends.