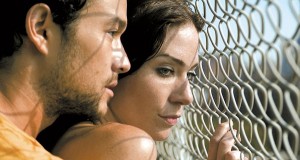 The Joseph Gordon Levitt and Lynn Collins film Uncertainty has been doing the rounds since last year. But is has not got a pick up for sometime. Finally we have news that IFC will be distributing the film on November 13 in limited release.
The film will be the next release of the upcoming star Joseph Gordon Levitt after a immensely successful year with 500 days of Summer and G.I. Joe. So he will end this year with an uncertain film directed by David Siegel and Scott McGehee. They are known for the Deep End. The film starred Tilda Swinton in a powerhouse performance. I think you guys should check it out.
The film deals with alternate realities in New York. It is mostly shot in hand held and with improvisations.
The film was picked up by IFC who will be distributing on Video on Demand on November 11 th and in New York November 13 th.