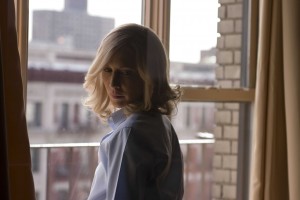 After working under the lights of greats like Martin Scorsese, Anthony Minghella, Jonahtan Demme and some low budget directors like Debra Granik. Vera Farmiga is now ready to put herself behind the camera for a bit. She will basically work as a director and also act in the film adaptation of Carolyn Briggs' memoir The Dark World. The film will be titled Higher Ground.
Vera had a lovely year last year with the birth of her child and also her work in Up in The Air was also lauded. But it is nothing compared to the films she has already signed on for. She is all about finished with her work on the Source Code. She has also signed on for Paul Thomas Anderson's The Master and this will make her add on to the pile of anti faith films.
Her film will be scripted by Briggs and Tim Metcalfe. It tells the story of a pregnant seventeen year old. She is married to her musician boyfriend a few months later; by the age of eighteen she loses all hope for a future. She then meets up with a friend from high school called to announce that she had asked Jesus into her heart.
That was the phone call that altered everything in her life. She began to live the life of a hermit. She began to oblige visits to the radical, apocalyptic New Testament church. She wore modest clothing and also spent great amount of her time praying and going for Bible Studies. She even added things to her daily life even her language began to change. This more like her whole life was filled with divine intervention.
Her mind became attuned to seeing Jesus in everything even in the smallest of things. It really changed the very fabric of her existence. But then slowly things began to wear off and tests were happening in her life. She was not able to question the validity of all that surrounded her. Cracks began to slowly appear in her faith. It is book on the nature of faith and how one woman struggled to find her place in the world.