Vera Farmiga has been working with some of the most interesting directors of this decade to get all the tips she needs to start her fledgling career. So it will be really nice to see what she does with Higher Ground her directorial feature. The film will be laced with some beautiful supporting members.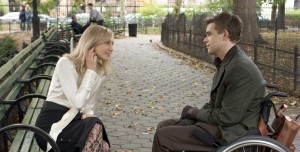 Vera Farmiga will be taking on the lead for the film and will be a gritty study of a woman from her awkward young teenager who grows up lost and finds herself attracted to the world of an American Christian fundamentalist cult among the hippies in the 1970s. Then this same girl grows up to be a Christ believer and things change for the better or worse is for us to decide.
The film stars Bill Irwin, Donna Murphy, Josh Leonard and Norbert Leo Butz. They will join John Hawkes, Dagamara Dominczyk and Ebon Moss Bachrach. The film will be based on the true of story of Carolyn Brigg.
Now we will have to wait and watch what Vera has learned from all the greats she has worked with.