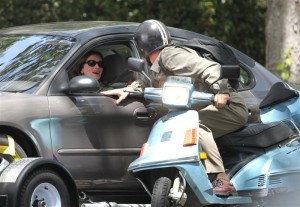 This is just the worst piece of casting. It has been quite stretch in the last couple of years to still keep stars in the industry even after they are not delivering hits. So it is has been difficult for studio bosses to afford these people. So why these are older people looking out for better scripts instead of wasting the money of the audience by making such rubbish.
In this new film called Larry Crowne it stars yesteryear stars Julia Roberts and Tom Hanks. Now the catch in this is the fact that Tom Hanks has written this story along with Nia Vardalos. It will also be directed by Tom Hanks. This already sounds tiring. The film also stars Bryan Cranston, Pam Grier and Taraji P. Henson.
The film will try to attempt to tell a story of our current scenario. It is about a man named Larry Crowne who is downsized from his job and decides to start over by enrolling in college. When he reaches college he forms some unexpected bonds with fellow students while also catching the fancy of Julia Roberts who plays a professor. This just sounds downright a waste of time.