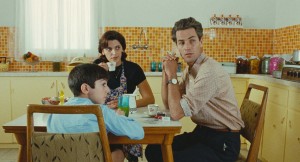 Elia Suleiman is done with his trilogy on the warring nations of the Middle East. The Time that remains is the last film in the series. The film was one of the highlights at the Cannes film festival. It is an examination of the creation of the state of Israel in 1948 through to the present day.
The film has also got some positive feedback from critics, which is a good sign in the long run.
Here is the synopsis.
THE TIME THAT REMAINS is a humorous, heartbreaking film composed of elegantly stylized autobiographical episodes from the life of writer/director Elia Suleiman. The film explores life among the Israeli Arab community, and is shot largely in homes and places in which Suleiman's family once lived. Inspired by his father's diaries, letters his mother sent to family members who had fled the Israeli occupation, and the director's own recollections, the film spans from 1948 until the present, recounting the saga of the filmmaker's family in subtly hilarious vignettes. Inserting himself as a silent observer reminiscent of Buster Keaton, Suleiman trains a keen eye on the absurdities of life in Nazareth.
The Time that remains hits theaters on January 7 th 2011. It will be something we will be expecting in the coming weeks.
Source: Slashfilm