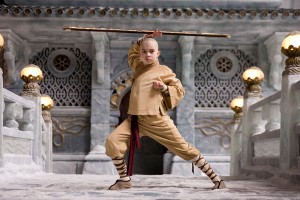 This summer started on a bad note. But there is still hope with Inception, Scott Pilgrim and of course how can we discount M. Night Shyamalan's next The Last Airbender. The film looks so beautifully shot. It will certainly be another surprise hit for studio bosses who have doubted him in the last couple of years. This will just blow the kids away. The kids are going to run to theaters with all the choices they have this year.
So it is a Japanese trailer and it is just epic. But the use of music is a little bad in this one. They are a little late to the scene. But it is Aang who shines out in this new trailer. Japanese people will running screaming to watch this blockbuster. It seems most of the movies are made for the south east Asian people in mind. The Anime was a big hit in the US. So will be translate to a big box office take. But the producers should really push for more promotions for this film to play well.
The Last Airbender is directed by M. Night Shyamalan. He is known for his films like The sixth Sense, Unbreakable, Signs, The Village, Lady in The Water and the Happening. The screenplay was written by M. night Shyamalan which is a cause for concern but the story was done as a collaboration with creators of the show. The film is expected to hit theaters on July 2nd this summer.