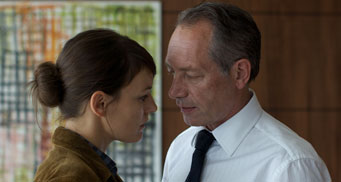 At the Cannes film festival they had the premier of Christoph Hochhausler film Under the City. It was a world premiere in the Certain Regard competition. There is also a first ever trailer for the film.
It is a bizarre combination of various themes like extramarital bank merging and well made and that is it. The film looks a little too predictable. Christoph Hochhaausler makes his second appearance in the Un Certain Regard category. The film is a dispassionate account which makes me think of Wall Street and Fatal Attraction at the same time. The filmmaker takes advantage of the current crisis to the use the banking world as shorthand for emotional wickedness.
The film tries to incorporate a new formalism and trying to work on the form but it is the story that will give away a lot from its goodness. Check out the trailer for the film to get an idea of where this one wants to go.