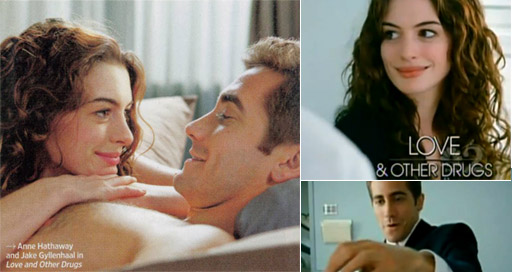 It is been a while since we have seen the two of them together. The last time was when Heath Ledger was alive and well in Brokeback Mountain. They just look amazing together. Jake seems to act better in front of her. Anne Hathaway just took my breath away in this new film called Love and Other Drugs. My heart is still racing after seeing this one.
The script was written by Ed Zwick and Charles Randolph, and is based on Hard Sell: The Evolution of a Viagra Salesman. The film co-stars Olivier Platt, Judy Greer, Hank Azaria, Gabriel Macht and Josh Gad. It looks absolutely gorgeous.
Here is a small synopsis.
Maggie (Hathaway) is an alluring free spirit who won't let anyone – or anything – tie her down. But she meets her match in Jamie (Gyllenhaal), whose relentless and nearly infallible charm serve him well with the ladies and in the cutthroat world of pharmaceutical sales. Maggie and Jamie's evolving relationship takes them both by surprise, as they find themselves under the influence of the ultimate drug: love.
Love and Other Drugs is going to be a bonafide hit and will be in theaters on December 24 th.
Source: RopeofSilicon