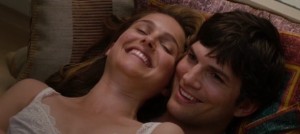 She seems to be jumping from the provocative Black Swan to the awful No Strings Attached. She does this like changing her undergarments. It is a horrible sight and an assault to the senses. The movie follows a lonely doctor who gets lucky with a pretty co-worker played by Natalie Portman in a comedy about the complications of friends.
The film costars Ashton Kutcher, Greta Gerwig, Mindy Kaling, Olivia Thirlby, Kevin Kline, Lake Bell, Chris Bridges. There will be another film released around the same time with Natalie Portman's costar in Black Swan Mila Kunis. The other film is called Friends with Benefits and it almost features a similar storyline with different stars.
The new trailer is a red band trailer and NSFW. It has several new cuts, but it does not look there is any significant improvement. The film is expected to roll out on January 21 st 2011.