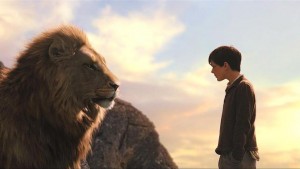 This might be a bit late. But the Lion has really got me hooked to the series. There was a lot of less of him in the previous film so he is back with vengeance in this one. Now this time the four siblings end up taking a journey on a ship called the Dawn treader.
It takes them to all kinds of places with several spectacles in tow. This is going to be a huge up from the Prince Caspian which did not do too well at the box office. The fans sort of disowned that one.
The film will be directed by Michael Apted who has made stupid films like Class Action, thunderheart, Extreme Measures and the horrible World is not Enough. So is there any hope left for the series. I guess not it is written by Christopher Markus and Stephen Mc Feely who have no script writing skills whatsoever. The film will just be trampled by the force of the lion. This is the third book in the series by C.S. Lewis from the beloved Chronicles of Narnia. Tell us what you think of this trailer and is there any hope at all.