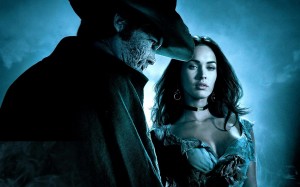 It looks really bad actually. The only thing that stands out is the manic laugh of Michael Fassbender. What else is the point watching such rubbish. For some people it will be the presence of the dumb Megan Fox. So here goes intellect out the window welcome in insanity.
It looks like a run down version of Wild Wild West. A serious flop in Will Smith's horrible career that really made him takes himself seriously. It is really a hog wash peace of filmmaking. There have been several origin stories for this man Jonah Hex. But none of them are really worth mentioning here and also our valuable time. Josh Brolin seems to have a run of good films coming up in the next couple of months.
The trailer can be watched in high definition at Yahoo movies. It will be released on June 18 th.