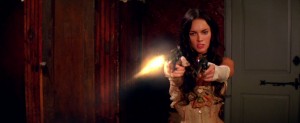 This is really becoming silly. There is another trailer trying to promote this really horrible looking film. The only reason people will go and watch this crap is probably because of the presence of John Malkovich and Michael Fassbender. But what are they doing in this movie they don't know themselves. They probably wanted to have some fun after all the serious stuff they took in the last couple of years.
Jonah Hex really does not need to be talked about it stars Josh Brolin in the title character. He is trying to channel a mockery over his character in no Country for Old Men. But that film had Javier Bardem to the side. This film has some other interesting actors like Megan Fox who was just kicked out of Transformers will that do any good to the series I don't really think so then there is Will Arnett, Michael Shannon and Thmas Lennon.
The story follows a disfigured bounty hunter who tracks voodoo practitioner that wants to raise an army of undead to liberate the South. The film is directed by Jimmy Hayward who was a Pixar animator before he churned out this rubbish. The script was written by the asses who gave us Crank. The film is expected to release on June 18 th this Summer.