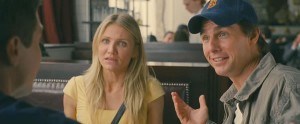 Tom Cruise is trying everything after his box office power has reduced. He is trying to mock himself in this new trailer for his upcoming release called Knight and Day. But will this do to rejuvenate his career. The new trailer is three minutes long and it is filled with utter nonsense. He stars alongside Cameron Diaz his co star from Vanilla Sky. The latter film didn't do much for his star status either. The film is directed by James Mangold who did the interesting 3:10 to Yuma. The cast also includes Peter Sarsgaard, Paul Dano, Maggie Grace and Marc Blucas.
But by the looks of this film it doesn't really stand a chance at the box office. Many of the audiences have gone weary of both the stars of the film. Here is a synopsis to give you an idea of the idiotic nature of this story.
An action-comedy centered on a fugitive couple (Cruise and Diaz) on a glamorous and sometimes deadly adventure where nothing and no one – even themselves – are what they seem. Amid shifting alliances and unexpected betrayals, they race across the globe, with their survival ultimately hinging on the battle of truth vs. trust.
The film is expected to hit theaters on June 25 th 2010.