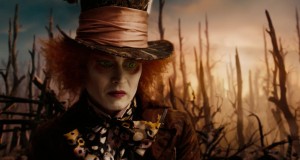 Disney is not going to be let down with all the Avatar hoopla happening around worldwide. Not to be outdone they have released one more trailer for the movie Alice in Wonderland. The trailer is attached with most of the prints of Avatar this weekend. The first trailer generated a lot excitement.
This trailer is way better than the first one. The film stars a lot of interesting people like Mia Wasikowska as Alice, Johnny Depp, Helena Bonham Carter, Anne Hathaway, Cripin Glover, Stephen Fry, Christopher Lee, Michael Sheen and Alan Rickman. This is going to be one rollercoaster ride we cannot really miss.
Alice in Wonderland is directed by Tim Burton who is known for his work on films like Edward Scissorhands and the Batman franchise. The script was written by Linda Woolverton who is part of the Disney family. The film is based on the Lewis Carroll beloved series of book. It heralded the new genre called nonsense literature. Alice in Wonderland plans to go both digital in 3D and 2D theaters next year.