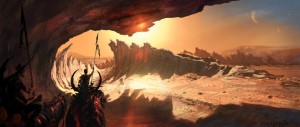 The first teaser of the film really fails to impress. The adaptation is a little confusing with the lack of any Mars footage in the film. There is nothing in this trailer that will tell a filmgoer who is unfamiliar with the books will find it alright with the words Mars missing from the film.
The trailer is only fine and it seems to be missing a punch. The FX work on this film also seems to be a little unfinished. The transition to Live Action will be something to watch out for the director as well.
Andrew Stanton is a sure thing when it delivering fun adventures with a heart, so I bet he will deliver some kind of epic with this new film.
John Carter opens on March 9 th 2012. Tell us what you think of this unusual trailer.