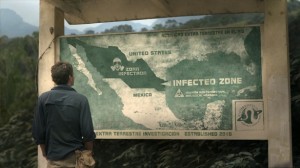 In the past couple of years many alien invasion movies have been in the offering. With each one is trying to outdo the other. This is the first footage from the huge buzz film Monsters which got screened at Cannes this year. The trailer is concentrating on the invasion a lot so it would be good to look the other way.
The aliens seem to be in hiding. Not much of them can be seen. It looks like a weird octopus searching for life on our planet. The film is expected to hit theaters on October 29 th. The film is directed by Gareth Edwards, who shot the whole film with a low budget, and there is a lot of SFX done on this as well.
The basic premise is about a cynical journalist who agrees to escort a shaken American tourist through an infected zone. The idea seems simple enough, but the make believe scenario will be what lifts this story up.