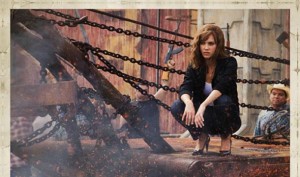 The Grindhouse spin-off Machete finally gets the Red band treatment. The brand new spot is introduced by Robert Rodriguez and contains a lot of footage not safe for work. Danny Trejo seems to have a lot of fun pulling out people's intestines and using it as a rope to get to another part of a building.

"Machete" Red Band Trailer
Uploaded by ThePlaylist. – Classic TV and last night's shows, online.
It looks quite hilarious. There is a lot of guys gets their faces sprayed and spliced. The film stars Jessica Alba, Robert De Niro, Michelle Rodriguez, Lindsay Lohan, Cheech Marin, Steven Seagal, Don Johnson, Rose McGowan, Jeff Fahey and Daryl Sabara.
The film is written by Robert Rodriguez and his long time editor will be working on the film. It is expected to hit theaters on September 3rd.