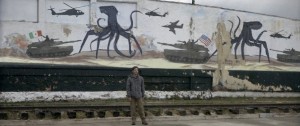 The new trailer for Monsters look a lot more edgy than the first. It seems to pull itself away from the District 9 comparison. The film stars Whitney Able, Scoot McNairy and is directed by Gareth Edwards. He was also supervising some of the special effects in the film. It fails to impress at times. So it has some interesting ideas, but it might not translate into something great like last year's District 9.
Here is an official synopsis .
Six years ago NASA discovered the possibility of alien life within our solar system. A probe was launched to collect samples, but crashed upon re-entry over Central America. Soon after, new life forms began to appear and grow. In an effort to stem the destruction that resulted, half of Mexico was quarantined as an INFECTED ZONE. Today, the American and Mexican military still struggle to contain the massive creatures… Our story begins when a jaded US journalist (McNairy) begrudgingly agrees to find his boss' daughter, a shaken American tourist (Able) and escort her through the infected zone to the safety of the US border.
Monsters will release all over the place on November 12 th.