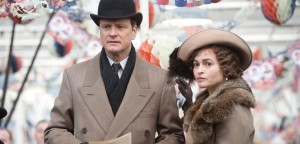 The people's Choice winner was The King's Speech at the recent Toronto Film Festival. It already looks like a front runner at this year's Oscar. The Weinstein released the trailer for some time now, but we thought we will show it when the dust settles. The King's Speech seems to have locked on the Best Picture.
The film stars Helena Bonham Carter, Geoffrey Rush, Colin Firth, Guy Pearce and Timothy Spell as Churchill. Colin Firth seems to be growing as an actor as the years go by. His performance last year in the powerful A Single almost went unnoticed.
The trailer will surely take you unawares. The film is directed by Tom Hooper. He is known for his work on TV on shows like Elizabeth. The screenplay was written by the lesser known David Seidler. The film is expected to hit theaters on November 26 th.