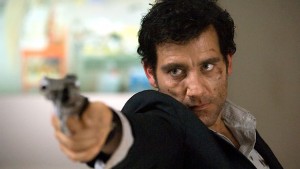 There are going to be quite a lot of new trailers coming out this coming week with the upcoming Toronto Film festival around the corner. David Schwimmer is working on the promotion for his next film called Trust.
The film revolves around a girl played by the beautiful Liana Liberato who is targeted and molested by an online predator played by Chris Henry Coffey. While Clive Owen and Catherine Keener play her parents. Viola Davis will be seen as the victim's the rapist. The trailer is a little too lame for our taste. But it does star Clive Owen so there will be a glimmer of hope.
Here is a synopsis of the film. It is part of the Toronto review.
Annie (Liana Liberato) meets a boy on the internet. He's cute, he's her age and he really seems to like her. Her parents have no idea. But then the boy confesses that he's actually a little older than Annie. Still, her parents are in the dark. By the time this "boy" lures Annie to meet him, she is so smitten with the idea of him that his true identity barely matters. Annie's parents (Clive Owen and Catherine Keener) find themselves facing every parent's nightmare.
Trust is a potent drama that cuts to the core of contemporary family life. It marks a major breakthrough for David Schwimmer. After directing a string of Friendsepisodes, a movie for television and the feature Run, Fatboy, Run (which premiered at the Festival in 2007), Schwimmer has emerged as a confident director skilled at handling risky dramatic material with both sensitivity and precision.
Although the subject of online child predators is something audiences have grown familiar with, Trust consistently rises above expectations. Credit goes to Schwimmer and writer Andy Bellin. Here, genre conventions are turned on their head as the film resists predictability to balance nail-biting suspense with heartrending drama.
Owen and Keener are perfectly cast as the grieving parents who react in profoundly different ways, and Viola Davis delivers another groundbreaking turn as the victim's therapist. But most impressive are the tour-de-force performances by lesser-known actors Liberato and Chris Henry Coffey. In addition to holding her own alongside an all-star ensemble cast, Liberato's slow-burning self-realization and climactic breakdown are incredibly raw and authentic. As the architect behind the desolation, Coffey gives a shockingly convincing performance that is equally perverse and plausible.
Trust is a harrowing and cautionary tale that should be considered recommended viewing for parents, and for their teenage children.